Jobs Page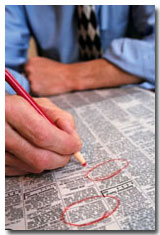 This page was last updated:
Free Ads: Any job announcements submitted to MSDIS directly from not for profit organizations, local/state/federal government and educational institutions will be added to this page free of charge.
Paid Ads: A listing fee of $100 per job ad applies to for profit organizations (private companies, recruitment agencies - or any third party acting as a recruitment agency on behalf of any organization eligible for free ads - and government or military subcontractors) to post a job vacancy on MSDIS jobs page. Paid job ads must be faxed to MSDIS using the official job ad order form (http://www.msdis.missouri.edu/community/jobadreq.pdf) . Only payment by credit card is accepted. Advertising on MSDIS jobs page is a great way to fill your vacancies. MSDIS jobs page receives 1500 - 2000 unique visitors per month and is consistently the 3rd most popular page on the MSDIS web site.
MSDIS RSS Jobs Feed, MSDIS Twitter Feed and listservs. For an additional fee of only $50 per service, for profit organizations posting paid job ads can opt to have their posting added to the MSDIS RSS Jobs feed, Twitter feed and list serv lists. If you would like to take advantage of these services just check the appropriate box(es) on the job ad request form.
We will not search the web, etc. for jobs. If you would like to take advantage of this medium, please submit your job announcements to:
MSDIS email:
Fax: 573-884-4239
Announcements with no closing date will remain on this page for three months from the posting date.
Announcements with a closing date will remain on this page until one week after the closing date.
Quick Jobs Index (click the title for detailed job description)
Available Positions



Position Title
Location
Organization
Salary Range
Closing Date
GIS Analyst
Jefferson City, MO
State of Missouri Office Geospatial Information ITSD
$1,716.00 – $2,503.50 semi-monthly
06/14/2017
GIS Intern
Columbia, MO
Boone County
$13.25 / hour
Until filled
Programmer Analyst
Columbia, MO
Boone County
$47,694.40-$50,668.80 to start
Until filled
Cartography Technician 1-170002Q
Kansas City, MO
Garmin International
?
Until filled
Application Support Specialist
Johnston, IA
A Large Agri Business via Palmer Group Recruitment
?
Until filled
Assistant Professor
Chapel Hill, NC
University of North Carolina at Chapel Hill
?
Until filled
GIS Analyst - CAD Technician
Chesterfield, MO
City of Chesterfield
$22.58 / hour
Open until filled
Other Employment Resources
The GIS Jobs Clearinghouse: http://www.gjc.org/
---
GIS Analyst
Posted 05/25/2017
Job Posting Number: 4611-17
Opening Date: 5/24/2017
Closing Date: 6/14/2017
Job Location: Jefferson City - Cole County
Merit Type: Merit
Salary Range: $1,716.00 – $2,503.50 semi-monthly
Benefits: Position receives State benefits including health care, retirement, and vacation
Essential Functions and Responsibilities:
The Office of Geospatial Information is part of the Information Technology Services Division. This position will be part of a team of GIS professionals that provide expertise and support to multiple state agencies.
Act as primary contact for GIS training; maintain the scheduling of upcoming classes. Serve as instructor for training classes geared toward new GIS users.
Provide technical support for GIS users. Assess their training needs and provide recommendations to meet those needs.
Create ad hoc maps and do analysis for a variety of agencies, including the Missouri House and Senate.
Develop, test, document, and perform data capturing, analysis, and quality control procedures.
Review data processing procedures and applications to ensure data integrity, compatibility with existing systems, and compliance with standards, policies, and other guidelines.
Assist in determining requirements, designing procedures, and ensuring compliance with standards for GIS.
Develop an understanding of how GIS is used by the business community. Recognize and promote opportunities for system and data development initiatives that maximize the enterprise integration of spatial and business data.
Job Knowledge, Skills, and Abilities:
Comprehensive knowledge of principles, practices, terminology, and trends in GIS and related technologies.
Ability to create course material and teach basic GIS skills to new and intermediate users.
Intermediate knowledge of cartographic principles and spatial analysis.
Intermediate knowledge of computer systems, database management, administration, security, networking, and telecommunication concepts.
Intermediate knowledge of geographic information applications, analysis, and the relationships between different types of spatial data.
For more information, minimum qualifications and to apply online https://it-careers.mo.gov/job-opportunity/4611-17/geographic-information-systems-analyst
---
GIS Intern
Posted 05/22/2017
Responsibilities:
Under limited supervision by the GIS Manager, this position will be responsible for, but not limited to; updating select GIS layers, performing spatial analysis, and developing custom map products using orthophoto imagery and LiDAR.
Status: Temporary, Non-benefited
Working hours: 10-40 hours/week (flexible) with maximum of 500 hours.
Location: Columbia, Missouri
Qualifications: Successful candidates should have experience with ESRIs ArcView, ArcEditor and/or ArcInfo 10.x Desktop and experience with aerial photo interpretation. A good understanding of Microsoft Windows is preferred but not required. Must meet minimum qualifications set forth by the FBI and MSHP CJIS Security policy.
Hourly Pay Rate: $13.25
Deadline for Application: Applications will be accepted until posting is removed.
Apply online: https://www.showmeboone.com/hr/webpublish/jobs/764-1176.html
---
Programmer Analyst
Posted 04/19/2017
Responsibilities: With close supervision, assists in the design, development, implementation, and support of the Enterprise Geographic Information System (GIS) applications, supporting systems, and databases. Designs spatial and non-spatial data; performs ESRI GIS product administration; provides technical support for complex system level problems; and provides technical architecture, design, development, and support. Builds enhancements to existing designs and creates new applications, performs system testing, and writes technical specifications and documentation. Writes and modifies GIS applications, scripts, databases, and system changes; writes and modifies new and existing data automation tasks; tests, installs, and implements changes, and ensures changes are successful. Troubleshoots application errors and problems; researches and analyzes correction strategies; helps with personal computer, networks, and help desk requests as needed; confers with users and GIS staff to discuss requirements and solutions; writes system and program specifications; and designs user interface, programs, and reports. Makes application program modifications to enhance current systems and operating systems; documents existing systems and workflows or programming flows to reflect current operating procedures in the GIS department; and assists in the system analysis of a new processing system or set of programs. Assists other programmers and GIS personnel, or end users, as needed. Work extra hours when needed.
Status: Full-time, exempt, benefited
Working hours: Primarily 8:00 am - 5:00 pm, Monday-Friday
Location: Columbia, Missouri
Qualifications: Bachelor's degree in Computer Science or a related field; or equivalent combination of education and experience. Must meet minimum qualifications set forth by the FBI and MSHP CJIS Security policy.
Preferred Skills: Software development and project management. Experience or training in ESRI ArcGIS Desktop, ArcGIS Server, and computer programming; ESRI JS API, JavaScript, CSS3, HTML5, Python, and SQL desired.
Salary Range: $47,694.40-$50,668.80 to start
Deadline for Application: Applications will be accepted until the posting is removed.
Apply online: https://www.showmeboone.com/hr/webpublish/jobs/922-1176.html
---
Cartography Technician 1-170002Q
Posted 04/19/2017
As a leading worldwide provider of navigation devices and wearable technology, our focus is on developing, designing and supporting superior products. Our advanced technology promotes performance, safety and ease of use in every market we serve. That makes us an engineering and technology company with a keen focus on recruiting talent in those fields. But the same vertical integration business model that keeps all design and manufacturing processes in-house also gives us the incentive to hire top performers from different backgrounds, including operations, finance and accounting, information technology, sales, marketing and communications.
Associates get the royal treatment at Garmin. Regardless if you're a newbie or a veteran, engineers dream it, design it and use it. Here, you will be surrounded by others who share the same passion about what they do every day. We offer a relaxed team environment (no dress code!) where advancement is found from sharing knowledge, not hiding it! While we promise you a lot of responsibility, you also will have the opportunity to have ownership over projects…oh, and we promise you there will be some fun mixed in there, too!
Left or right? East or west? Our cartography technicians have the know-how to make sure our products don't steer you wrong. Responsible for the attribution, maintenance and digitization of cartographic data, our technicians assist engineering in researching, defining, creating and evaluating all maps used in Garmin products. Heading out for a day on the water? Our technicians had a hand in creating that marine map. Going hiking in the Rockies? Yep, they did that too. Sightseeing on the streets of Paris? Ditto again. Our technicians maintain all of that geographic data using custom and 3rd party software so you always know where to go. Come on, what are you waiting for – are you ready to follow the leader?
We are looking for a full-time Cartography Technician 1 at our headquarters in the greater Kansas City area. In this role you will be responsible for editing, manipulating and maintaining geographic data using custom and 3rd party software. Other essential functions include:
Executes tasks as directed by Team Lead or mentor
Ensure the application of appropriate cartographic specifications to the data
Help evaluate and process database updates according to established methodology
Conduct testing and evaluation of Garmin cartography products
Perform established operations for quality assurance
Fundamental understanding of Garmin's Cartography development process
Qualifications
Qualified candidates must possess a Bachelor's Degree in cartography or geography from a four-year college or university or 4 years' experience performing a role substantially similar to the essential functions of this job description. Other requirements include:
Must possess a basic working knowledge and understanding of digital cartographic principles relevant to Garmin's business needs
Proficient computer skills - familiarity with PC applications and Windows Operating System (OS)
Must be detail-oriented and have the ability to work proactively and effectively with minimal supervision.
Ability to prioritize and multi-task in a flexible, fast paced and challenging environment
Demonstrated strong and effective verbal, written, and interpersonal communication skills
Must be team-oriented, possess a positive attitude and work well with others
Ability to work in a collaborative team environment to achieve goals and willing and able to share ideas freely and positively is highly preferred.
Our benefits are designed to lead an evolving marketplace, support innovation and encourage a healthy balance between work and life. They allow our associates to make their own decisions about their wellbeing and future and consistently rank Garmin as a top tier benefits provider when compared to other high-tech employers. We offer a choice of high value medical, dental and vision plans with low or no premiums, to fit your and your family's preferences. In addition, Garmin's financial benefits include a generous 401K retirement plan that provides 5% of pay base contribution plus a match of 75 cents for every dollar you contribute to a maximum of 10% of your compensation. The employee stock purchase plan allows for shares to be bought at a 15% discount. Garmin offers many other benefits and perks ranging from wellbeing initiatives, educational assistance and career development, community charity support, and employee discounts just to name a few.
EEO/AA/Minorities/Females/Disabled/Veterans
Please apply online at www.garmin.com/careers
---
Application support Specialist
Posted 03/27/2017
We are working with a local, well-known, and trusted company in the Des Moines area. The uses of technological innovation and hard work have guided this group to be successful not only throughout the country, but all over the world. If you are looking to make a difference in both your life and others, you can do so with this company and be a part of a great organization. This is a great opportunity to provide technical and analytical support for proprietary agriculture software solutions used by the sales team and their customers.
Responsibilities:
•Develop, implement and support application services and solutions
•Support GIS software over the phone and via email
•Respond to inquiries from internal end users
•Resolve questions/issues related to the software
•Testing of new software enhancements
•Develop training and documentation materials
•Work individually and with a team to complete first call resolution
Required Experience:
•Strong written and verbal communication skills
•Strong data analysis skills (SQL skills preferred)
•Technical support and troubleshooting experience
•Ability to function in a changing environment
•1-3 years of technical support experience
Preferred Experience:
•Knowledge of the agriculture industry and GIS
For more infomration and to apply please contact:
Kristi O'Brien
Palmer Group | Senior Account Executive
Central Iowa's Employment Solution Since 1998
3737 Woodland Avenue | Suite 200 | West Des Moines, IA 50266
515.225.7000 | Fax 515.224.4544
---
Assistant Professor Geography
Posted 02/15/2017
Below you will find the details for the position including any supplementary documentation and questions you should review before applying for the opening. To apply for the position, please click the Apply for this Job link/button.
If you would like to bookmark this position for later review, click on the Bookmark link. If you would like to print a copy of this position for your records, click on the Print Preview link.
Apply for this Job: https://unc.peopleadmin.com/postings/113484
Please see Special Instructions for more details.
All applications should be accompanied by curriculum vitae, statement of interest, and names (only) of four references. Review of applications will begin on October 1, 2016. Short-listed candidates will be contacted to provide four letters of reference immediately thereafter.
Posting Information
Position Type Permanent Faculty
Working Title Assistant Professor
Position Number 
Appointment Type Tenured/Tenure Track
Salary Range 
Full-time/Part-time Full Time
If part-time, hours per week 
FTE 
Vacancy ID FAC0001728
Posting Open Date 08/05/2016
Application Deadline 
Open Until Filled Yes
Proposed Start Date 07/01/2017
Position Summary
The Department of Geography at the University of North Carolina at Chapel Hill invites applications for a tenure track appointment at the rank of Assistant Professor in the area of Medical Geography. The appointment is available starting July 2017. Specialties can include but are not limited to population health, spatial epidemiology, climate and health, and mathematical modeling for disease transmission. Duties will include teaching, research, and community service at the University and at the National level within the discipline. The successful candidate will develop a vibrant undergraduate and graduate program, publish in the top journals, and have a track record (or potential for recent Ph.D.) of robust research funding. The Department has a strong commitment to inter-disciplinary and international research and teaching, and provides opportunities for interactions with other academic units, including the Water Institute (waterinstitute.unc.edu), the Carolina Population Center (cpc.unc.edu), the Institute for the Environment (ie.unc.edu), the Gillings School of Global Public Health (sph.unc.edu), the Southeast Regional Climate Center (sercc.com) and the UNC School of Medicine. All applications should be accompanied by curriculum vitae, statement of interest, and names (only) of four references. Review of applications will begin on October 1, 2016. Short-listed candidates will be contacted to provide four letters of reference immediately thereafter.
Educational Requirements
Must have a Ph.D. in Geography or similar with an emphasis on medical/health geography, population health, epidemiology, or related fields.
Qualifications and Experience
Outstanding research promise and dedication to excellent teaching are expected with an emphasis on medical/health geography, population health, and spatial aspects of epidemiology.
Equal Opportunity Employer
The University of North Carolina at Chapel Hill is an equal opportunity and affirmative action employer. All qualified applicants will receive consideration for employment without regard to age, color, disability, gender, gender expression, gender identity, genetic information, national origin, race, religion, sex, sexual orientation, or status as a protected veteran.
Special Instructions
All applications should be accompanied by curriculum vitae, statement of interest, and names (only) of four references. Review of applications will begin on October 1, 2016. Short-listed candidates will be contacted to provide four letters of reference immediately thereafter.
Quick Link unc.peopleadmin.com/postings/103813
Department Contact Information
Department Contact Name and Title: Barbara Taylor, Department Manager
Department Contact Telephone or Email: barb@unc.edu
Contact Information
If you experience any problems accessing the system or have questions about the application process, please contact the University's Executive Vice Chancellor and Provost office at (919) 962-1092 or send an email to facultyrecruitment@unc.edu.
Please note: The Executive Vice Chancellor & Provost office will not be able to provide specific updates regarding position or application status.
If you have any questions about the job requirements or the hiring department notify the Department Contact.
Applicant Documents
Required Documents
Curriculum Vitae / Resume
Cover Letter
List of References
Research Statement
Optional Documents
Teaching Philosophy/evaluations
Supplemental Questions
Required fields are indicated with an asterisk (*).
What is your highest degree?
PhD
MD
PharmD
DDS
DVM
JD
MLS/MIS
Masters
Other
Apply https://unc.peopleadmin.com/postings/113484
---