Jobs Page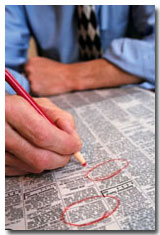 This page was last updated:
Free Ads: Any job announcements submitted to MSDIS directly from not for profit organizations, local/state/federal government and educational institutions will be added to this page free of charge.
Paid Ads: A listing fee of $100 per job ad applies to for profit organizations (private companies, recruitment agencies - or any third party acting as a recruitment agency on behalf of any organization eligible for free ads - and government or military subcontractors) to post a job vacancy on MSDIS jobs page. Paid job ads must be faxed to MSDIS using the official job ad order form (http://www.msdis.missouri.edu/community/jobadreq.pdf) . Only payment by credit card is accepted. Advertising on MSDIS jobs page is a great way to fill your vacancies. MSDIS jobs page receives 1500 - 2000 unique visitors per month and is consistently the 3rd most popular page on the MSDIS web site.
MSDIS RSS Jobs Feed, MSDIS Twitter Feed and listservs. For an additional fee of only $50 per service, for profit organizations posting paid job ads can opt to have their posting added to the MSDIS RSS Jobs feed, Twitter feed and list serv lists. If you would like to take advantage of these services just check the appropriate box(es) on the job ad request form.
We will not search the web, etc. for jobs. If you would like to take advantage of this medium, please submit your job announcements to:
MSDIS email:
Fax: 573-884-4239
Announcements with no closing date will remain on this page for three months from the posting date.
Announcements with a closing date will remain on this page until one week after the closing date.
Quick Jobs Index (click the title for detailed job description)
Available Positions



Position Title
Location
Organization
Salary Range
Closing Date
GIS Technician/Planner 1

Harrisonville, MO
City of Harrisonville, MO
$31,166.00 to $46,750.00 per year

14 Sept 2018
GIS Intern

Olathe, KS
AIMS Mapping - Johnson County, KS Government
$14/hour

Unknown
GIS Programmer Analyst

Columbia, MO
County of Boone, MO
$47,694.40-$50,668.80

Unknown
ERP Technical/Functional Analyst I

Omaha, NE
Metropolitan Utilities District
$74,044-$93,112

Unknown
---
GIS Technician/Planner 1
Posted 09/05/2018
Pay Rate: $31,166.00 to $46,750.00 per year
Organization: City of Harrisonville, MO
Location: Harrisonville, MO
Deadline for Application: 14 September 2018
Position Summary:
This county seat community of over 10,000 people needs a bright, energetic individual to help us continue recording vital information into our GIS system. The City of Harrisonville has a job opportunity that involves maintaining and updating the City Geographic Information System (GIS), preparing illustrations/maps that requires the application of cartographic and planning illustration techniques. An understanding of Land Use Codes is a plus.

The applicant must have education and training in ESRI software and platforms, specifically ARCGIS Desktop version 10.3 or later, GIS cartography and planning, skills in developing and making presentations for oral and written reports is required. The applicant must also have a valid driver's license, the ability to read and interpret maps, aerial photographs, municipal ordinances, state laws and legal descriptions is required. General experience in the use of GIS software, along with planning related issues, and general experience with Microsoft Office products, plotters and printers is required. An Associate or Baccalaureate degree is preferred.

For More Information and To Apply:
Submit your application online at www.harrisonville.com, or to the City Clerk, 300 E. Pearl St., PO Box 367, Harrisonville, MO 64701, by 5:00pm, September 14, 2018.
See extended job details here.
---
GIS Intern
Posted 08/28/2018
Pay Rate: $14/hour
Organization: AIMS Mapping - Johnson County, KS Government
Location: 111 S Cherry St, Olathe, KS
Timeframe: Fall 2018 with option for rollover into Spring 2019
Deadline for Application: Unknown
Position Summary:
The AIMS (Automated Information Mapping System) GIS team within the Department of Technology and Innovation at Johnson County, KS seeks a student, recent graduate, or geographically inclined individual interested in gaining experience working as a paid GIS Intern for the fall of 2018 (and preferably into spring of 2019).

Primary Duties:
Primary duties will include capture of planimetric features (building footprints, etc.) from aerial photography using ArcMap/ArcPro editing tools, assisting walk in customers, completing ad hoc map and data requests for departments and cities, georeferencing of images, and other data related maintenance. br />
Additional Information:
The candidate should be familiar with basic GIS principles and ESRI GIS software (version 10.x of ArcMap, ArcCatalog); able to work independently; a self-starter; and a quick learner. Experience with helping customers is preferred.

The position will be located at 111 S Cherry St in Olathe, Kansas. Preferred schedule will be 6 to 8 hours a day ~3 days a week but hours could be spread out between Monday-Friday if needed.

To apply:
For consideration send resume as a pdf to mapper@jocogov.org.

---
GIS Programmer Analyst
Posted 08/13/2018
Pay Rate: $47,694.40-$50,668.80
Status: Full-time, exempt, benefited
Deadline for Application: Unknown
Responsibilities:
With close supervision, assists in the design, development, implementation, and support of the Enterprise Geographic Information System (GIS) applications, supporting systems, and databases. Designs spatial and non-spatial data; performs ESRI GIS product administration; provides technical support for complex system level problems; and provides technical architecture, design, development, and support. Builds enhancements to existing designs and creates new applications, performs system testing, and writes technical specifications and documentation. Writes and modifies GIS applications, scripts, databases, and system changes; writes and modifies new and existing data automation tasks; tests, installs, and implements changes, and ensures changes are successful. Troubleshoots application errors and problems; researches and analyzes correction strategies; helps with personal computer, networks, and help desk requests as needed; confers with users and GIS staff to discuss requirements and solutions; writes system and program specifications; and designs user interface, programs, and reports. Makes application program modifications to enhance current systems and operating systems; documents existing systems and workflows or programming flows to reflect current operating procedures in the GIS department; and assists in the system analysis of a new processing system or set of programs. Assists other programmers and GIS personnel, or end users, as needed. Work extra hours when needed.

Qualifications:
Bachelor's degree in Computer Science or a related field; or equivalent combination of education and experience. Must meet minimum qualifications set forth by the FBI and MSHP CJIS Security policy.

Preferred Skills:
Software development and project management. Experience or training in ESRI ArcGIS Desktop, ArcGIS Server, and computer programming; ESRI JS API, JavaScript, CSS3, HTML5, Python, and SQL desired.

To apply:
For more information and to apply, please visit the posting on the Boone County Jobs Page

---
ERP Technical/Functional Analyst I
Posted 08/08/2018
Pay Rate: $74,044-$93,112 (based on experience)
Deadline for Application: Unknown
Position Summary:
Under general supervision, the ERP Technical/Functional Analyst I provides support to departments and end-users utilizing the ERP/GIS systems in their daily and regular business operations. Using standard business methodologies and processes, gathers, analyzes, and documents the business rules and requirements from internal functional business units. Facilitates the implementation of solutions to meet identified business needs, ensures the accurate implementation of District policy, practice, and process within the ERP/GIS systems. Participates as a contributor in ERP/GIS related projects or initiatives outside of his/her direct area of responsibility.

Minimum Requirements:
•Bachelor's degree in Computer Science, Information Technology, Geography, Engineering, Business, or a related field, plus a minimum three (3) years related work experience or knowledge with project management, software development or system support.
•Knowledge of several functional areas including finance, purchasing, materials management, customer relationship management, accounting, billing/invoicing, payroll, human resource management, Plant Maintenance, relational database systems, business intelligence, and/or ESRI GIS Systems.
•Technical proficiency in one or more areas of ERP/GIS, including but not limited to: FI/CO, FI/CA, Purchasing, Materials Management, Warehouse Management, Customer Relationship Management/Customer Care & Service, HCM, EAM, QM, Plant Maintenance, Project Systems, Fleet Management, Billing/Invoicing, Print Workbench, SuccessFactors Talent Management Suite, NetWeaver PI, Portals, ABAP Programming, SAP Forms, Sales and Distribution, Work Management, Device Management, Workflow, ArcGIS for Desktop, ArcGIS for Server, ArcGIS for Mobile, and/or ArcGIS Online.
•Desired proficiency with technologies underlying the ERP/GIS components, such as, but not limited to, relational databases and database tools, web technology, Linux, Python, SDE, Flex applications, mapping API's, SDK's, Java, and/or JavaScript.
•Effective oral and written communication skills.
•Ability to communicate business user needs to technical staff.
•Ability to focus on business solutions and results first before technology.
•Ability to listen, comprehend, and effectively document business user needs.
•Capable of organizing and prioritizing multiple tasks and requests.
•Ability to successfully meet deadlines.
•Work occurs in a normal business environment but the requirements of the job will necessitate being available to support critical systems 24x7x365.

Specific Responsibilities:
In order to effectively contribute to the objectives of the District, the ERP Technical/Functional Analyst I is accountable and responsible for:
•Interfacing with one or more functional areas of the District currently using or slated to be utilizing SAP/GIS systems.
•Functioning as technical expert and providing support on one or more SAP/GIS modules.
•Recommending revision to SAP/GIS related business processes to increase efficiency, accuracy, and timeliness.
•Gathering, defining and documenting business requirements on behalf of the business process owners, business system owners, subject matter experts, users, and other stakeholders, then developing detailed functional and design specifications suitable for implementation.
•Participating in all phases of the system development lifecycle including testing.
•Working with quality assurance in the design and performance of acceptance tests, change control, and release management processes.
•Understanding and complying with all pertinent District Safety Standards.
•Fulfilling responsibilities common to all Supervisory, Professional, and Administrative positions.

To apply:
For more information and to apply, please visit the posting on the Metropolitan Utilities District Jobs Page

---